Rugby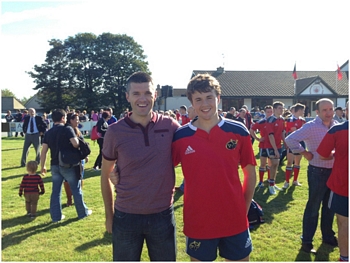 Michael Mullally pictured with Principal Aodán Mac Gearailt following their victory over Connacht.
The school Rugby Team started in 2011 under the direction of George Lenihan.
The school team trains every week where the basic skills of the game are taught and developed.
Munster Coaches have also visited our school and offered guidance and support.
The school has entered in various Rugby Blitz's and many of our players were 'spotted' and are now involved with Tralee R.F.C. and Munster.
This year our 6th year student Michael Mullally from Brandon represented Munster Youths in the interprovincial series.